CDPM-1
Advanced Certified Development Project Manager (CPDM)
The CDPM Level 1 program consists of three courses, each course has a duration of three weeks. The certificate program provides you with a comprehensive introduction to development project management. To earn the certificate, you will complete the two required courses and complete one elective course that best match your individual learning objectives.
Program Requirements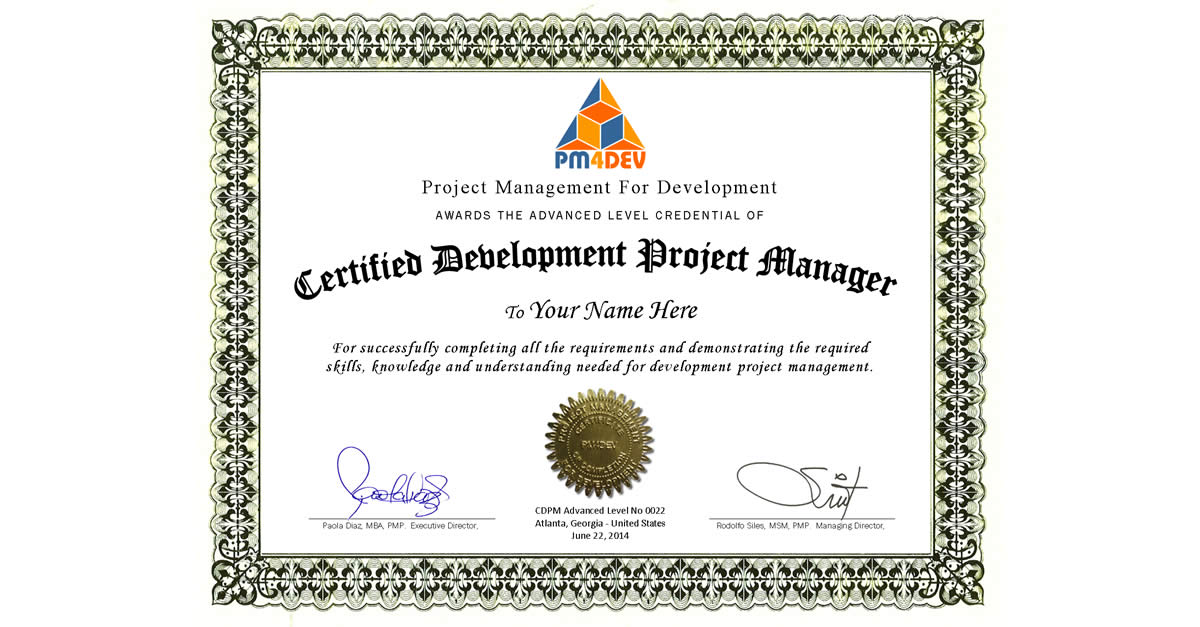 Complete two mandatory courses:
FPM - Fundamentals of Project Management

EPM - Effective Project Management
Complete the suggested elective course *
PDME - Project Design, Monitoring, and Evaluation
Total credit hours 105 hrs. (10 CEUs)
Course Certificates
Each course provides 35 hours of learning and instruction over a three-week period. After completion of the course, you will receive a Certification of Completion. Once you complete all three courses, you will receive the Advanced Certification in Development Project Manager (CDPM-I) mailed to your home address at no extra cost
Program Fee
The regular cost of the three courses is $550, the program has a special discount of $165 that you can apply during registration, by using the promo code 30CDPM your total fee will only be $385 for the three courses. On the registration page, you can choose your preferred payment methods. We accept all major credit cards in a secure online payment system. For alternative payments methods such as Western Union or Money Gram, please contact us at This email address is being protected from spambots. You need JavaScript enabled to view it.
Registration
Registration for this program is now open. Click on the Register button, add the discount promo code 30CDPM, and enter your payment method. Once you complete your registration, you will receive a confirmation email and a request to choose your course dates.
Click this link to download the Program Brochure
Download the 2023 Course Schedule and plan your learning. Click here.
Student Feedback:
"I was looking into a new job to start my career in project management and even though I am a CDPM, I was advised to complete a PDM&E. The course served the purpose and it met my needs." Hughes Dixon Williams, United States

"The EPM course has equipped me with knowledge and skills required to manage my current and future projects effectively. It is my first course on the CDPM journey and I can't wait to get started on the next course....Thank you PM4DEV!!" Victor Adebayo, Nigeria

"The course was organized in a clear language that could easily be understood. I really liked the coherence and the presentations of the topics and enjoyed reading, exploring it. In fact, I have now registered for the full CDPM Course after I initially started studying the FPM". Hiyawhabte Habte, Premiere Urgence Internationale – PUI, Afghanistan

"PM4DEV courses provided very interesting and detailed lessons. I think they are shaping my field of expertise and want to pursue further courses with PM4DEV. Now I have completed FPM, EPM and PDME and will receive my CDPM certificate. Thank you!" Josiah Kimeli, MSF Belgium
---
Our instructors are experienced trainers and project managers who are PMP® certified. Our comprehensive courses in project management theory, fundamentals, principles and practices are designed around industry best practices and based on the Project Management Institute's (PMI®) Project Management Body of Knowledge (PMBOK®).
We are confident in our ability to provide comprehensive, practical courses that will enable you to further your project management education.